Oxford Portable Circuit Board Copper Thickness Gauge CMI165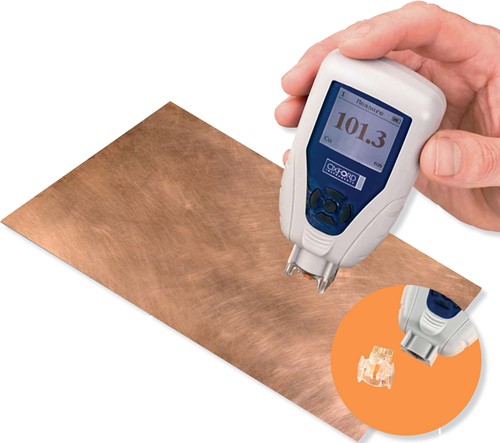 I. Product Application:
This instrument is the world's first copper thickness gauge with automatic temperature compensation. Hand-held design, ergonomic; automatic temperature compensation to eliminate the effects of copper foil temperature; configuration of the probe shield to ensure the durability of the probe.
II. Product Features:
1. High temperature PCB copper foil can be tested
2. Display units can be mils, μm or oz
3. Can be used for incoming inspection of copper foil
4. Can be used for etched or leveled copper thickness quantitative test
5. Surface copper thickness test after electroplating copper
6. SRP-T1 surface copper test head with temperature compensation
7. It can be used to test the thickness of copper surface on the line after etching
III. Work Principle:
Copper thickness measurement by four-pin probe base on the micro-resistance principle, in accordance with EN 14571 test standard
IV. Main Function:
1. Measuring function: to measure the surface copper plating thickness
2. Application Process: Quantitative copper thickness test after plating, etching or leveling.
3. Software function: can record data online or do SPC analysis. (optional)
V. Product Parameter:
| | |
| --- | --- |
| Thickness measuring range | Chemical copper:0.25 - 12.7 μm(0.01 - 0.5 mils) ;electrocoppering:2.0 - 254 μm(0.1 - 10 mils) |
| Reproducibility | 0.08 μm at 20 μm (0.003 mils at 0.79 mils) |
| Linear copper line width | 8mils |
| Accuracy | 5% |
| Operate inerface | English and simplified Chinese |
| Power supply | Ordinary AA battery powered |
| Measuring method | SRP-T1 probe(CMI165 Dedicated replaceable probe)automatic measurement |
| Measuring mode | User can choose fixed or continuous measurement mode |
| Measuring range | 5um-140um |
| Data | Powerful statistical analysis function, including data record average, standard deviation and upper and lower limit reminder function |
| Unit | The units of measurement can be mils, m or oz |
| Standard film | The instrument does not require special specification standard film, and can measure the thickness of the etched linear copper foil. The measurable line width range is as low as 0.2 mm. |
| Storage volumn | 9690 test results can be saved (test date and time can be set by users) |
| Transmission | Test data can be transferred at high speed via USB2.0, or saved as an Excel file. |
| Calibration | The instrument is pre-calibrated at the factory |