Oxford Hole Copper Thickness Gauge CMI511 (CMI500)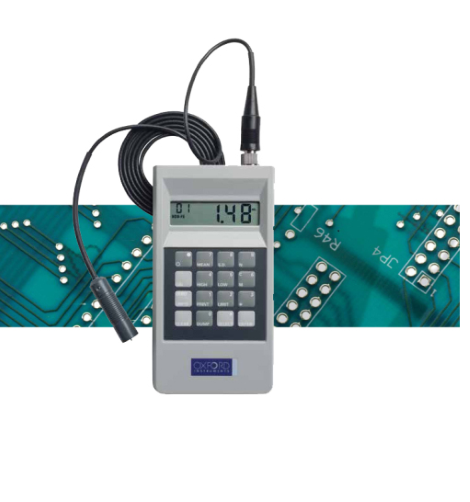 I. Product Application:
This instrument is suitable for non-destructive and accurate measurement of copper thickness before and after etching of printed circuit boards.
II. Product Features:
1. Automatic temperature compensation allows for immediate inspection of the board after it has been lifted from the plating bath. Thereby reducing waste and rework costs.
2. The unique design allows the CMI500 Thickness Gauge to measure double or multi-layer boards and even penetrate tin and tin/lead layers for measurement
3. Handheld design, battery powered
4. One thousandth inch/micron unit conversion
5. Serial output port for transferring results to a printer or OICM unique statistics and report generator
III. Work Principle
Eddy current method is used to achieve accurate measurement of copper thickness in the perforation without destroying the sample
IV. Main Function:
1. Measuring function: measuring the coating thickness in the hole
2. Application process: before and after PCB erosion process" class="taglink" href="http://www.kingrayland.com/index.php?ac=search&at=taglist&tagkey=erosion+process" target="_blank">erosion process" class="taglink" href="http://www.kingrayland.com/index.php?ac=search&at=taglist&tagkey=erosion+process" target="_blank">erosion process
3. Software function: can record data online or do SPC analysis. (optional)
V. Product Parameter:
| | |
| --- | --- |
| Testable minimum hole diameter | 35 mils (899 μm) |
| Measuring thickness range | 0.08 – 4.0 mils (1 – 102 μm) |
| Eddy current principle | Comply with the relevant provisions of the ASTM-E376-96 standard |
| Accuracy | ±0.01 mil (0.25 μm) < 1 mil (25 μm) |
| Precision | 1.0% at 1.2 mil (30μm) (in the laboratory) |
| resolution | 0.01 mils (0.1μm) |
| Calibration method | Single calibration |
| Display screen | High-brightness LCD display, 1/2 inch (1.27mm) high |
| Unit | Switch between metric (mil) and imperial (mils) units with the button |
| Connector | RS-232 connector for transferring data to a computer or printer |
| Statistical data | Measurement points, average, standard deviation, highest value, lowest value, can be output histogram or CPK chart by printer |
| Storage volumn | 2000 readings |
| Net weight | 9 oZ(0.26Kg) including battery |
| Dimension | 149*794*302 mm |
| Battery | 9 volt dry battery or rechargeable battery |
| Battery duration | 9 volt dry battery -50 hours 9 volt rechargeable battery -10 hours |
| Printer | Arbitrary vertical thermal printer |
| Button | Sealing film, enhanced-16 key |